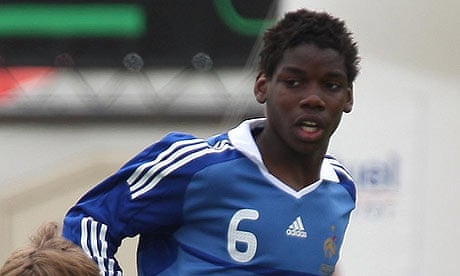 French midfielder Paul Pogba's love for football began at the age of six when he started playing for local team US Roissy-en-Brie. His older twin brothers also had a similar love for soccer and made it a point to push each other to be the best athletes they could be. Paul spent hours and hours training with his brothers, who both play professionally now, his brother Florentin with Saint-Etienne, and Mathias with Patrick Thistle of the Scottish Premiership. Paul moved to UC Torcy where he was the captain of the U-13 team. This hard work continued to pay off when he transferred to Le Havre the next season.
All the while, he did not stop working to become better, he put the work in on the field and studied the game by attending his older brothers matches on a regular basis. Pogba captained the U-16 team at Le Havre and in his second season led them to a second place finish in their domestic league.
Pogba was tipped to be one of the next names to watch in football and had interest from major clubs all over Europe. He joined Manchester United in July of 2009 after departing from Le Havre. Both Manchester and Pogba received harsh criticism from management at Le Havre as the move was very unexpected. The French club came at Manchester with allegations of "stealing" Pogba from them and said they already had a "non-solicitation agreement".
But instead of focusing on the negativity surrounding his transfer, he continued to put in the work. On October 10th of 2009 he made his debut for United's U-18 team and finished the 2009-2010 season with seven goals in 21 appearances. Good, but not amazing yet. Moving ahead to February 19th, 2011, Pogba was one of four academy players called up to the first team squad ahead of Manchester's FA Cup fifth round match against Crawley Town. He finished the rest of the season back with the U-18 squad and helped the team on their run to their tenth Youth Cup title.
Instead of focusing on the negativity surrounding his transfer, he continued to put in the work.
By this time he had established himself as one of the top prospects in Europe at the domestic and international levels. Things were on the rise for Paul Pogba.
Ahead of the 2011-2012 season, manager Alex Ferguson confirmed that Pogba would be a member of the senior team. On September 20th he made his professional debut against Leeds United. His premier league debut came on January 31st of 2012 against Stoke City.
But then came the setback that would define his short career. Although senior two midfielders were injured during Pogba's first season with the senior team, he did not get the minutes he felt he deserved. Instead, Alex Ferguson favored a younger defender Fabio to play central midfield. He was frustrated and disrespected that Ferguson would not give him the minutes he felt he deserved.
A lot of players would have been shattered and given up hope.
How would you feel in this situation? Everybody is saying how you're going to be the next big thing and suddenly you are dropped and other people (you think you're better than) take your place. A lot of players would have been shattered and given up hope.. even at the highest levels. There are countless examples of players that were given all the praise early in the careers like Freddy Adu (made his debut in the MLS at age 14), Nile Ranger, John Bostock or Fabio Pame.  Manchester United sold Pogba for a measly 1 million pound. Although Paul was upset with his situation, he looked to change it for the better by proving Ferguson wrong.
Although Paul was upset with his situation, he looked to change it for the better by proving Ferguson wrong.
The next season, Pogba left Manchester to sign a contract with Italian club Juventus. He went on to have massive success with his new team, making 178 appearances, scoring 34 goals. Each of his four seasons resulted in a Serie A title for Juventus. And in 2015 Pogba helped the club reach the Champions League final.
His career could have went two ways after his departure from Manchester. Like a Freddy Adu (now playing with a 2nd division club in the USA) he could have settled with a small role and been the average player his former manager believed he was. But instead he made his own route, tearing up the Serie A league and opening a lot of eyes to the player many teams had slept on.
"I don't hide the fact that as a child I dreamed of playing for Barcelona or Arsenal" said Pogba in an interview with Republica in Italy. 
Juventus offered a new contract, as did Spanish powerhouse Real Madrid, but Pogba chose to return to Old Trafford, stating it was his "destiny". The signing set a world record transfer fee at 105 million euros, just four years after he left Man U for 1.5 million euros at Juventus.
Instead of staying frustrated and upset over his first experience with Manchester United, Pogba continued to work hard to be the best player he could be. His development in his four years at Juventus comes back around full circle now as he is signing back with the same team that wouldn't give him his shot four years ago. If you're ever in a situation where you aren't getting your chance, think of Pogba and what can turnaround in just a few short years. The rest of his story is yet to be written.
"One of my dreams is to win the Ballon d'Or". – Paul Pogba
---
Nick Humphries, 25, is a footballer who played in England (Wimbledon), Scotland (Montrose), Holland (Volendam), Hungary (Vasas) as well as with the Australian U20 national team. At 16 years of age, he was just an average amateur player with limited skills. Only one year later he was offered $120k+ in scholarships. Two years later he received a contract to play professionally in Europe. How did he get better? He trained in his own way! Learn more about the training program he's creating to help players improve on their own terms.