Steven Gerrard was born in England and raised as a Liverpool fan since day one. He grew a strong passion for soccer and began to work hard to develop his skill sets. After being noticed by Liverpool scouts at a Whinston Juniors game, he joined the Liverpool Academy at the age of nine.
While excelling in the Liverpool junior system, Gerrard attended tryouts for Manchester United, among other teams, but was declined. Finally, in 1997 he signed a contract with Liverpool's senior team. He began to get the playing time he wanted but soon after experienced multiple groin injuries that needed four surgeries in order for him to get back on the pitch.
He trained hard and was able to start 50 times during the 2000-2001 season, as well as scoring ten goals and winning the FA Charity Shield and UEFA Super Cup.
His hard work did not go unnoticed, as Liverpool began to play poorly despite Gerrard shining, Chelsea made a generous offer, but Steven declined.
Gerrard was quoted saying "a traditional club like Liverpool still has a value, that's the reason why I have stuck around for so long…it is more important to win a couple of trophies and achieve something that is a lot more difficult than go down the easy road and move to a club where it becomes easier".
Darren Burgess, a fitness and conditioning coach for Liverpool between 2010-2012, recalls Steven's intense training mindset.
"Stevie was obsessed about every detail," Darren told Liverpool Echo.
"He showed his attention to detail on and off the field. His commitment to the club was total".
"If he saw something was happening around the club that was affecting performance he would intervene".
"He was always wanting to know how far he had run and his speed".
Gerrard is now on contract with the LA Galaxy of the MLS and media was on site for a recent training session where Steven finished second in a training challenge. He was "extremely unsatisfied" with his performance and called the goalie over to stay after and take more shots.
"When I'm training off the pitch I normally do three weight sessions each day to improve my upper-body strength and one working on my lower body to improve leg strength. I also do two core or Pilates sessions to increase my flexibility" says Gerrard.
"On the pitch I train for an hour and a half each day. That includes drills, ball-work, cardio and a lot of running".
"On a match day, diet and hydration is so important".
Off the field, Gerrard makes sure to keep a top notch diet. His match day diet includes plenty of protein and carbohydrates to provide energy. This means a lot of chicken, fish, eggs, pasta, rice, and potatoes.
Before coming to the LA Galaxy, Gerrard spent more days on the treatment table (740), than appearances for Liverpool (702). This includes eight hamstring injuries and six groin injuries to name a few.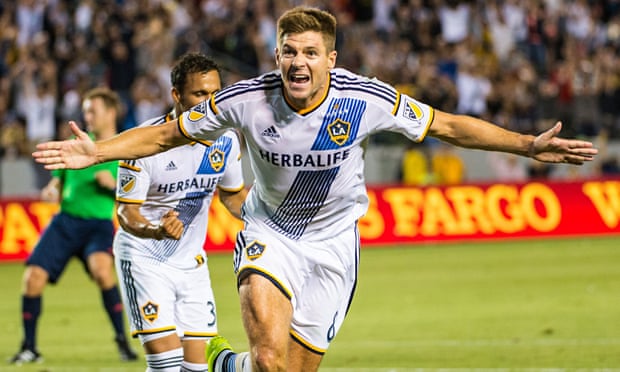 ---
Nick Humphries, 25, is a footballer who played in England (Wimbledon), Scotland (Montrose), Holland (Volendam), Hungary (Vasas) as well as with the Australian U20 national team. At 16 years of age, he was just an average amateur player with limited skills. Only one year later he was offered $120k+ in scholarships. Two years later he received a contract to play professionally in Europe. How did he get better? He trained in his own way! Learn more about the training program he's creating to help players improve on their own terms.